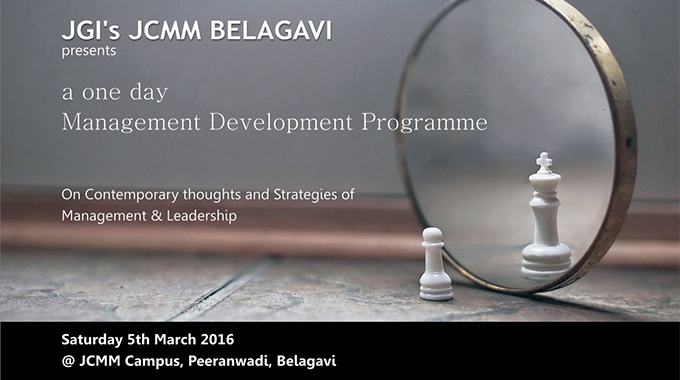 Management Development Programme at JCMM, Belagavi
Jain College of MCA & MBA (JCMM), Belagavi is conducting a Management Development Programme (MDP) on its campus on March 05, 2016. This is a full day session starting 9 AM at JCMM, Peeranwadi Campus.
[ Click the images below for full screen view ]
The Management Development Program (MDP) is an exercise at knowledge exchange and networking for identifying and building on unique practices with relevance for personal, professional and corporate excellence. The MDP session has been designed, keeping in view the need for enhancing managerial performance through leadership skills.
---
Update Photos from event
Communication for Personal Effectiveness
Personal & Organizational Branding
Application of Technology in Management
Understanding People, Process & Management
Financial Management – Beginners Guide
The session is open for Executives, Middle Level Managers, Administrative Staff, Entrepreneurs. Please contact for any details or clarifications:
Prof. Sushant Joshi – +919886635260
Prof. Sandeep Nair – +919986763865
Prof. Kapileshwari Prasad – +919964165886
Prof. Tenzing Anto – +919480130877